Here's another tiny 2-page spread, so ENLARGE: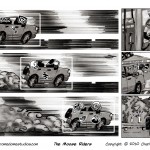 Let me point out a few examples of artistic license in action here. The vehicle is based a bit on my lovely wife's RAV4–200K+ miles and still serving us faithfully. The gas cap is actually on the driver's side, but I thought drawing the car pointing to the left caused an incongruity with the rest of the page. It's also front-wheel drive, so the rear wheels probably shouldn't be kicking up that much dust. And finally, my son would be far too embarrassed to take a leak on the side of the road. I think he'd rather pull a Tycho Brahe than whiz in public next to his old man.
Related to last week's post: If you are aching for some Moose Riders merchandise, go check out my fancy new zazzle store. T-shirts, skateboard decks, coffee mugs, etc. emblazoned with six different designs. Check them out and if you see something you like, buy it! If you have some special request, let me know, and I'll see if I can put it together.
Also, the original hand-drawn art for most of the pages are available for purchase. Most will be around $50 plus s/h, but there are a few that might be more or less. Let me know if you see a page you'd like to stick on your wall and I'll send you a picture of the actual page so you can see what it looks like without all the digital enhancements. Thanks!